A high-level overview of Penn's groundbreaking undergraduate financial aid program. 
Understanding Your Financial Aid Package
How Financial Aid Works
At Penn, all undergraduate financial aid is awarded on the basis of financial need. Penn does not offer aid based on academic or athletic merit. Penn covers demonstrated financial need with financial aid packages that consist entirely of grant funding and work study, assisting families across a wide range of the economic spectrum. This makes it possible for students from a variety of backgrounds to afford a Penn education.
Expected Family Contribution
The Expected Family Contribution (EFC) is a component of every financial aid package at Penn. Penn's packaging philosophy is that a student's education is a shared investment between the student, their family, and the institution. For this reason, every student receiving financial aid has an EFC and is expected to make some level of contribution toward their educational costs. For families with the highest financial need, the EFC may be very small.
Please note that the Expected Family Contribution will not match the billed expenses on your student account. Because Penn financial aid packages are based on the entire cost of attendance, which includes unbilled expenses such as books and supplies, transportation, and personal expenses, some of your EFC may best be utilized on budgeted living expenses. Please be sure you are considering the entire cost of attendance in planning for the academic year.
Grant-Based Financial Aid Packages
We compare your EFC to the Cost of Attendance for your academic program, which includes billed expenses like tuition and fees, housing, and dining, as well as non-billed expenses like books and supplies, transportation, and personal expenses. The difference between your Cost of Attendance and your Expected Family Contribution is your demonstrated financial need.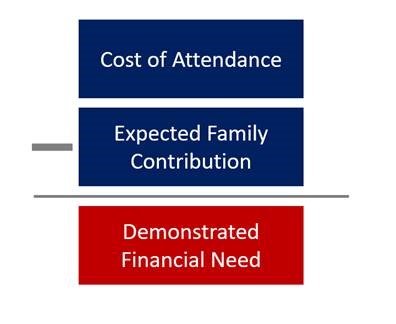 Penn meets 100% of your demonstrated financial need with grant funding and work-study. Your package may include funding from several sources, such as institutional Penn Grant, endowed donor scholarships, or state and federal funding. Note that international students are ineligible for state and federal funding, so their packages will consist entirely of institutional grants.
You will receive a financial aid notice each year via Path@Penn outlining your cost of attendance and your financial aid eligibility with a breakdown of the various components of your package. Please contact Student Financial Aid if you have questions about any of this information.